On Sale
3 in 1 Wireless Charging Station
Almost Perfect
This beautiful device sits eloquently next to my bed. The type C plug insures a speedy charge. I LOVE 💕 the fact that it sits resting in the perfect spot to roll over and glance effortlessly.
This only gets 4 ⭐️ Because I have to take the case off for it to magnetize and hold. My case works through any other charging device, and it's just a simple clear plastic case. If I could find a lighter case that would hold, and still be protective, I might up my score.
I love my Journey
This is a wonderful invention that can be used for multiple purposes.
LOVE!
Grips the phone tight so it doesn't fall off the charger. Can use it as a phone stand on calls; easy to rotate the phone while continuing to charge it. Watch and earphones fit snug. Great device. Retiring my old one!
My only wish is that the mini charger came in the box. Wasn't aware it wasn't and had to order one after the fact. Just the cable is included.
Good Charger
I ordered this Charger because I love how you can charge everything with just one device. However I will say it takes way longer to charge your phone, watch, and ear pods than normal.
If you don't mind that then you will love this charger.
Clean table
No more twisted and knotted charging cables. Neat installation.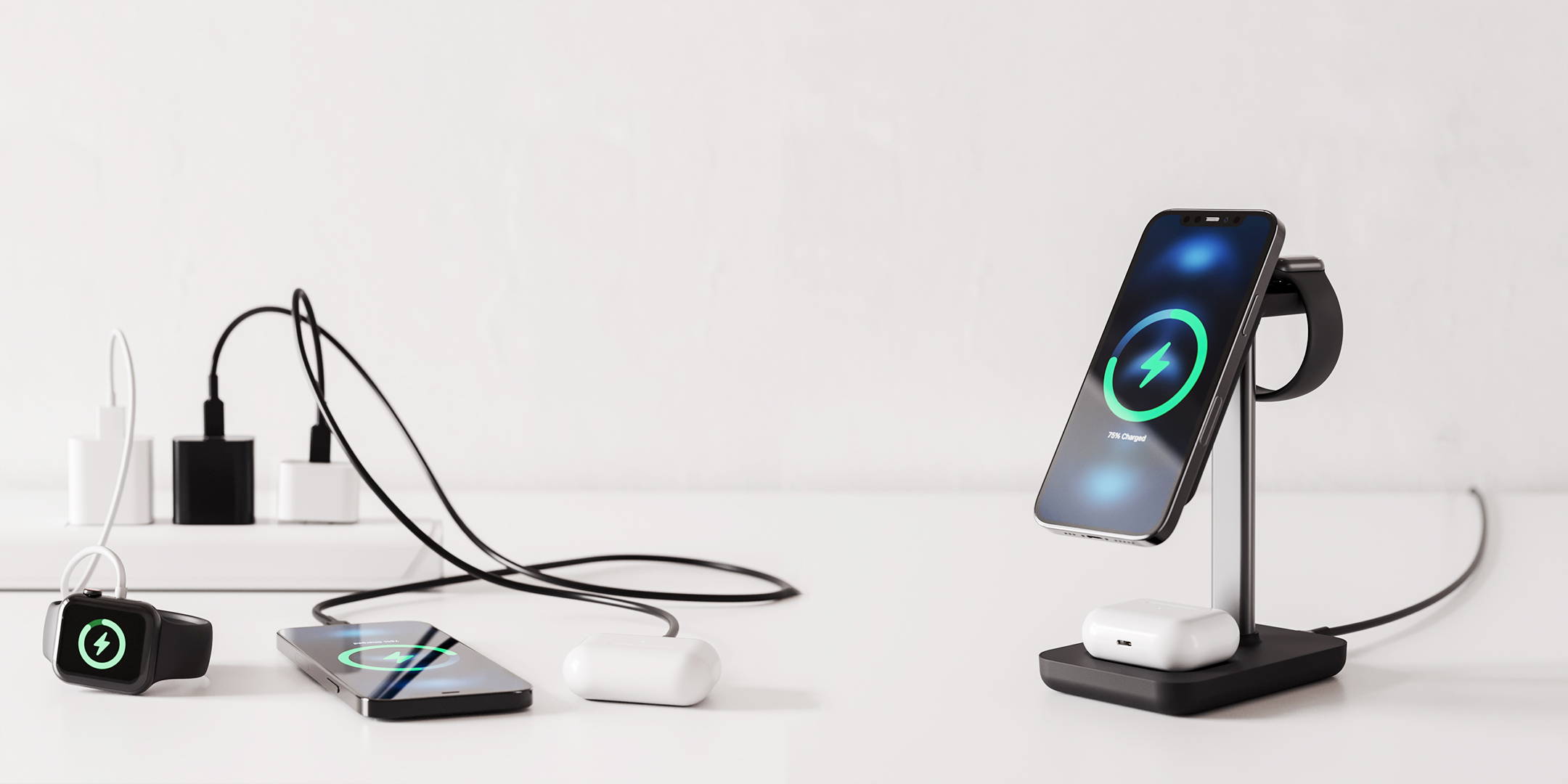 No more messy charging cables.
Quickly remove all the cords hanging around your nightstands, working desks, or living room end tables.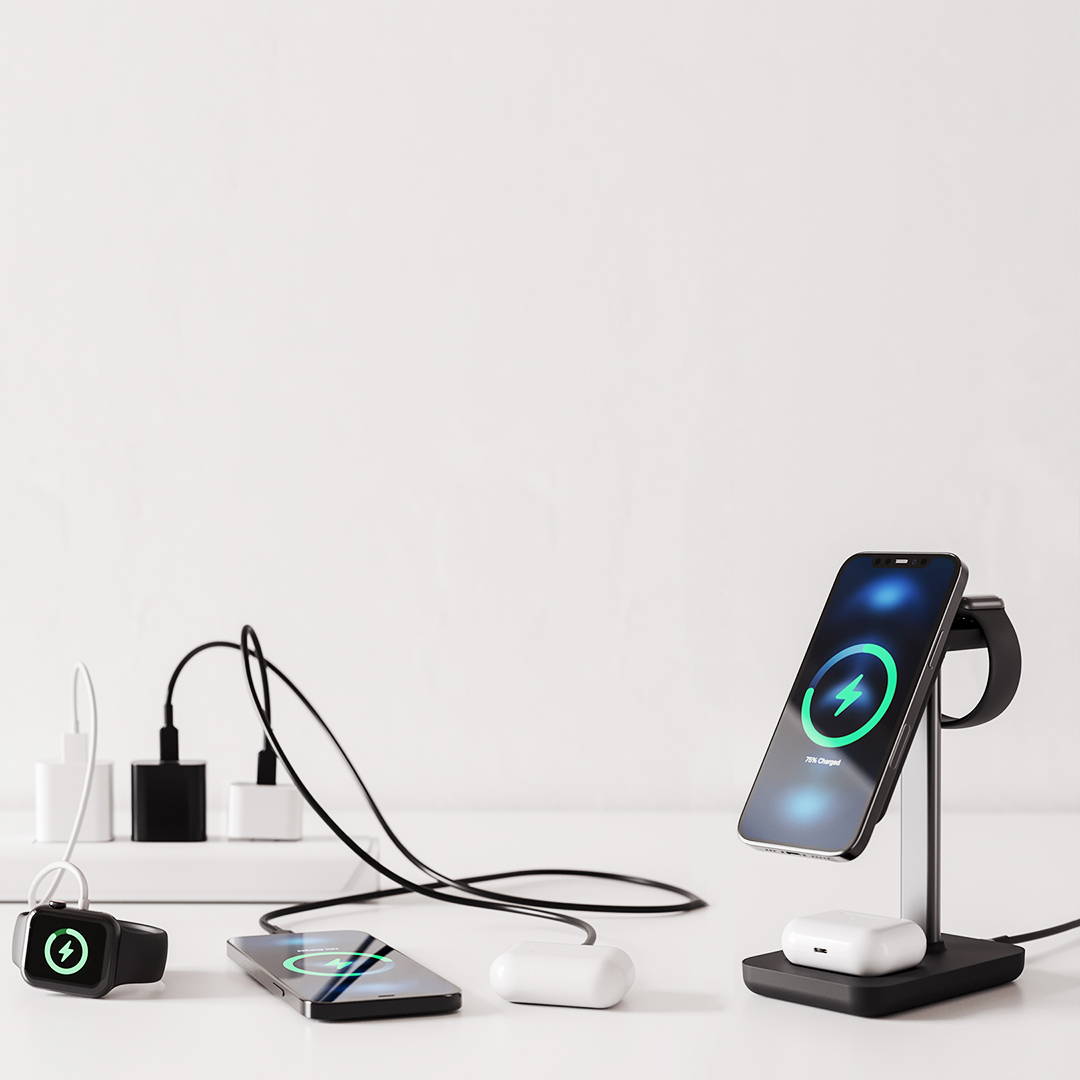 No more messy charging cables.
Quickly remove all the cords hanging around your nightstands, working desks, or living room end tables.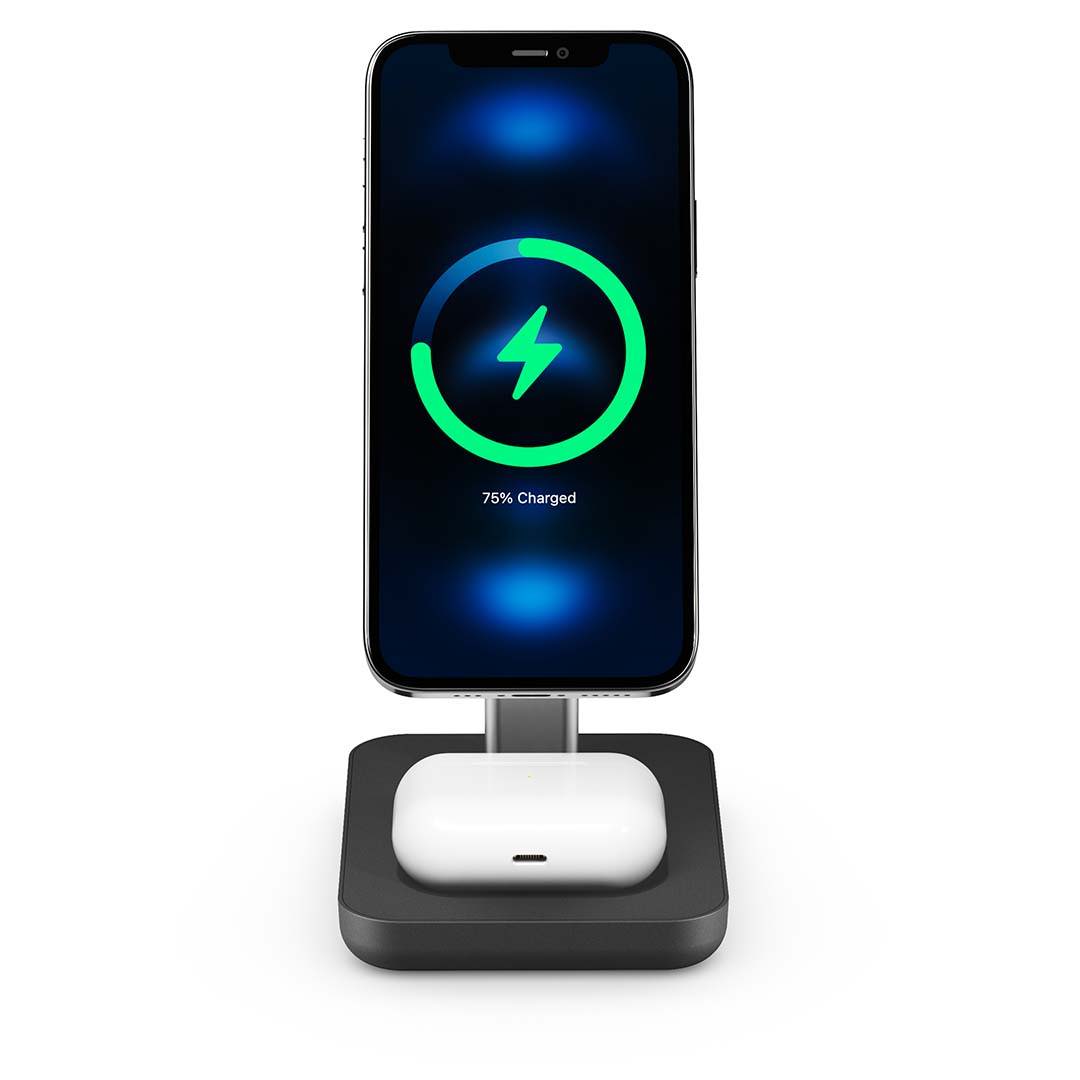 Fast charging with 4X speed.
With over-current protection, over-voltage protection and over-temperature protection as well as foreign object detection function, it can prevent over-charging damage of equipment battery. Our new charging technology charges your phone 4x times faster and the old popular versions.
ANTI-SLIP DESIGN WITH STRONG MAGNET
Hold your devices firmly.
The anti-slip strong base with powerful magnetic fixed design ensure your devices are protected when charging.
Use with Magsafe compatible cases.
If you are using MagSafe cases, you don't have to remove them. However, you do need to remove your credit cards or anything in between your case and the charger.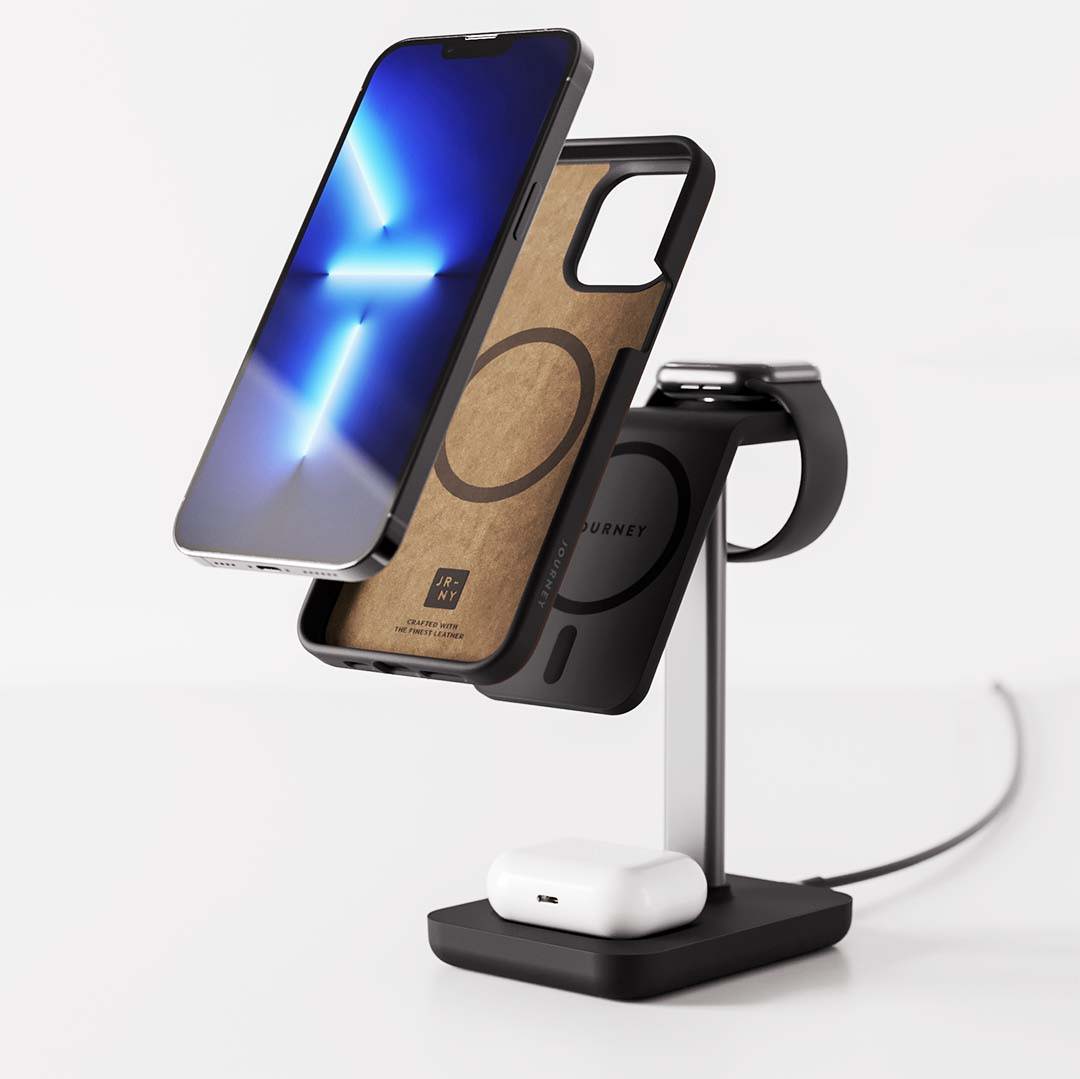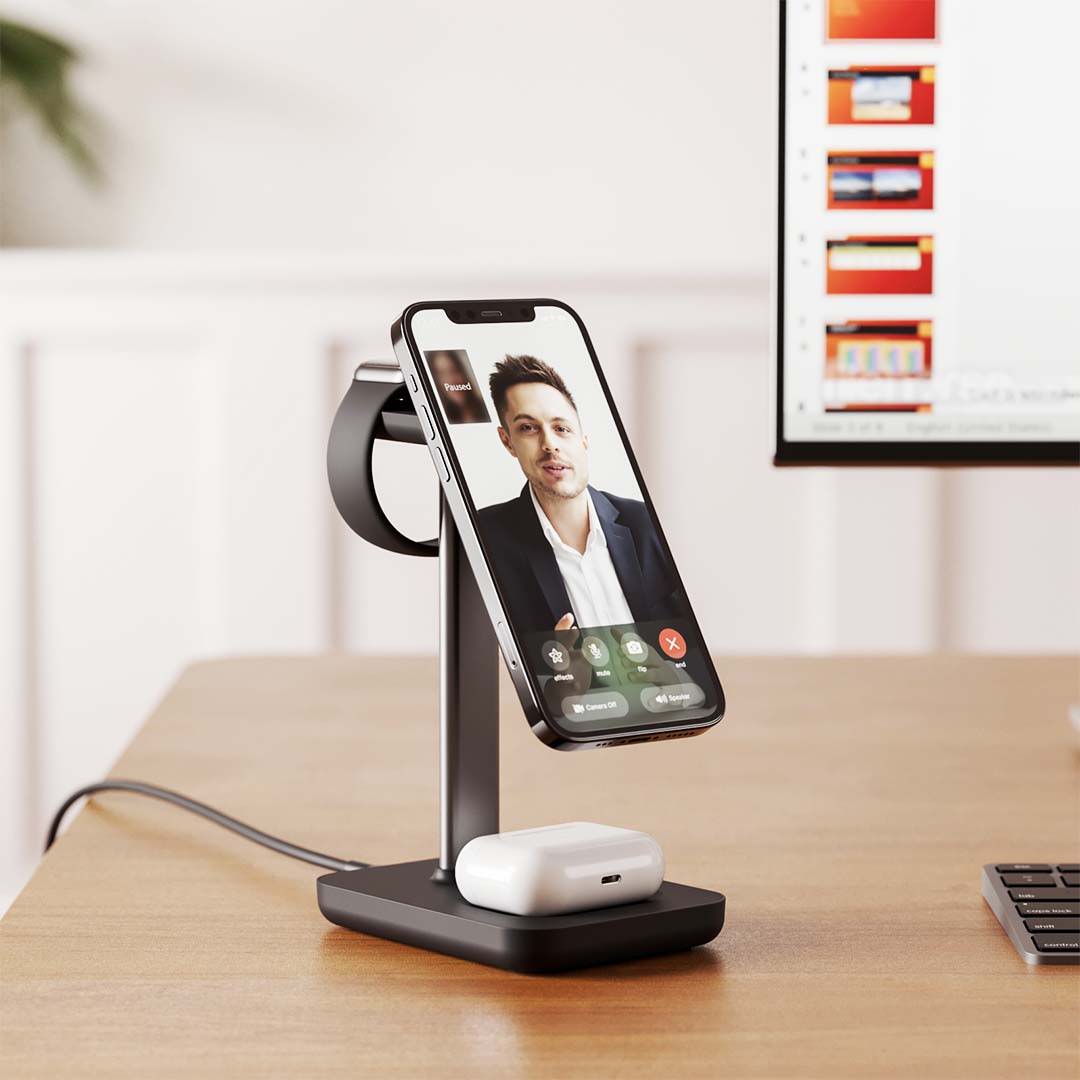 Never forget where you leave your devices.
Put this charger anywhere you go frequently and you can simply put all your Apple devices there.
Plug it. Use it. Enjoy it.
Use your phone the way you want with 45 degree angle. Bring it on your working desk or dinner table.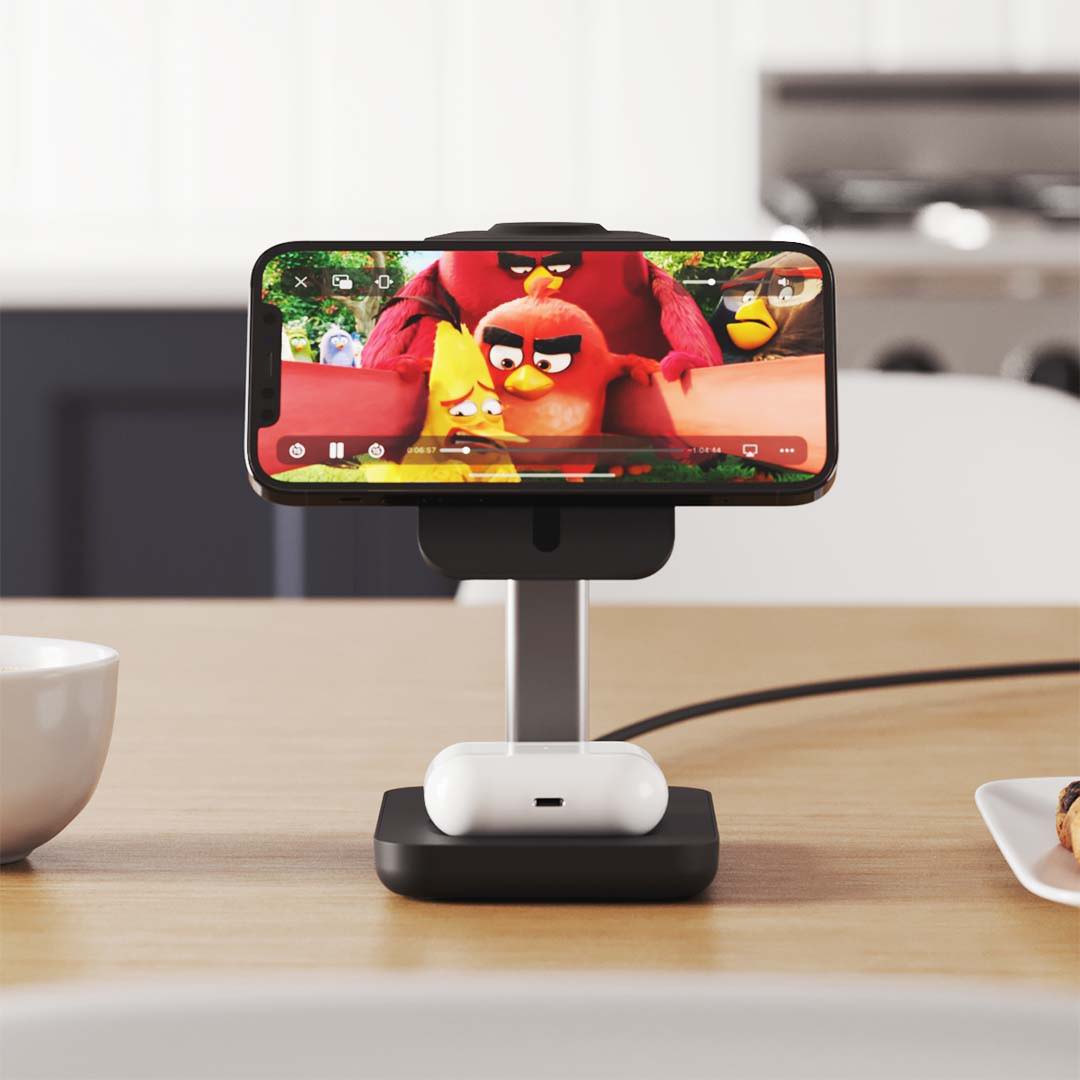 Dimensions - 60mm (L) x 80mm (W) x 80mm (H)

Magsafe Compatible -

Yes

Thickness - 8mm

Wireless Charging Compatible -

Yes
Specially created for iPhone 12

and above

Strong magnetic hold that auto aligns and holds your phone in place

Assured stability

for

iPhone 12, iPhone 12 Pro, iPhone 12 Pro Max, iPhone 12 Mini

Sturdy build quality and additional

arm provides added

support

and stability

Hassle-free cable management

with in-built wireless charging

360-degree rotation, enjoy music in portrait mode or navigate easily in landscape mode
Q1: Does this work with Android phones?
A1: No, this charger is especially made for MagSafe compatible devices (iPhone 12) and accessories and does not work with Android phones.
Q2: How quickly will I receive my charger?
A2: Your item(s) might arrive in as quickly as 4 business days. We process and ship 99% of our in stock items the same day we receive it.
Q3: Does it work with a phone case?
A3: Works with Magsafe compatible cases or slim plastic cases which are under 8mm for the best performance. Otherwise, you can use it without a case.
Q4: Will it work with iPhone 12?
A4: It will work perfectly with iPhone 12
Q5: Does the magnet have any side effect on my phone?
A5: The answer is no. We have a team of expert electronic engineers, who have designed this product. We know that the latest smartphones and accessories are not affected by magnets and many smartphones like iPhone 12 actuall have magnets inside them.